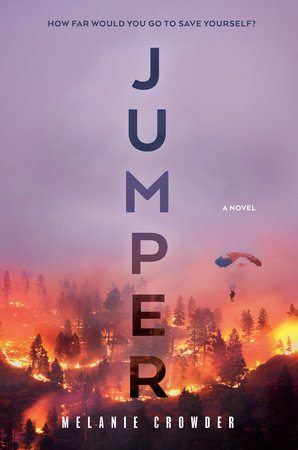 Blair Scott is in her second season as a wildland firefighter when the Forest Service puts out a call for an additional class of smokejumpers. She and her best friend Jason both apply, though neither expects to get in since they're only nineteen. But it's been a devastating fire season, and they are both accepted. But going to training camp is only the first step—everyone expects the teenage rookies will wash out in the first week. Blair has always been touchy about people telling her she isn't good enough, so she begins taking unnecessary risks to prove herself. It doesn't take long before everything spins out of control, leaving Blair struggling to cope. 

Penguin Random House (2022)
There are very few YA books that I read in a day, but Melanie Crowder's JUMPER wouldn't let me go. Perhaps it was the characters. Blair Scott is a young woman with a medical secret. A daughter driven to achieve everything with her body when her mother would prefer she be careful and cautious. Aunt Cate, a single, smart, scientific, woman who lives in the woods. Jason. Ah. Sweet, strong, incredible Jason. All of us want a friend like Jason. Two smart, salty, veteran firefighting instructors and a cadre of firefighting candidates, each with their own carefully drawn personalities and experiences.
Perhaps it was the setting and the action. The textures of Montana range, mountains, and forests are beautifully drawn on the page. It is a ripped-from-the-headlines setting where Blair and Jason train to contain and fight fires that most of us would run from. But, the big fires aren't the only ones burning and they aren't the focus for Blair, Jason, and their smoke-jumper colleagues. The smoke-jumpers parachute into the woods to tamp out and contain smaller, hard-to-get-to fires. Crowder keeps the reader on the edge of their comfy reading cushion as the firefighters strategize to battle the intensity of the flames while keeping their egos and personal struggles in check.
Perhaps what kept me reading was the structure. For an East Coast reader, a lot of this was new information, but Crowder had that covered as well. Careful and intentional insertions of firefighting orders, "watchouts," and vocabulary kept me informed and foreshadowed the action, urging me on.
Perhaps it was the timeliness. In just the last couple of weeks, four fires have broken out in Montana and in a California heat wave, the Oak Fire in Yosemite (the photos in this TIME magazine article are jaw-dropping) expanded to 28 square miles (19,000 acres). Climate change has expanded the fire season so much that for some places, there's no more season at all. Fires happen all. The. Time. (Take a look at this fire and smoke map.) Upon finishing the book, I ran into this tweet reminding us that those who run toward the fires to save our lives and property are often volunteers and underpaid workers.
But wait…I can't forget the emotional arcs of each of the characters. Crowder writes emotion so well. You're going to swoon, you're going to cry, you're going to be destroyed in all the best ways.
Get the book. Just get the book.